Projects under development and construction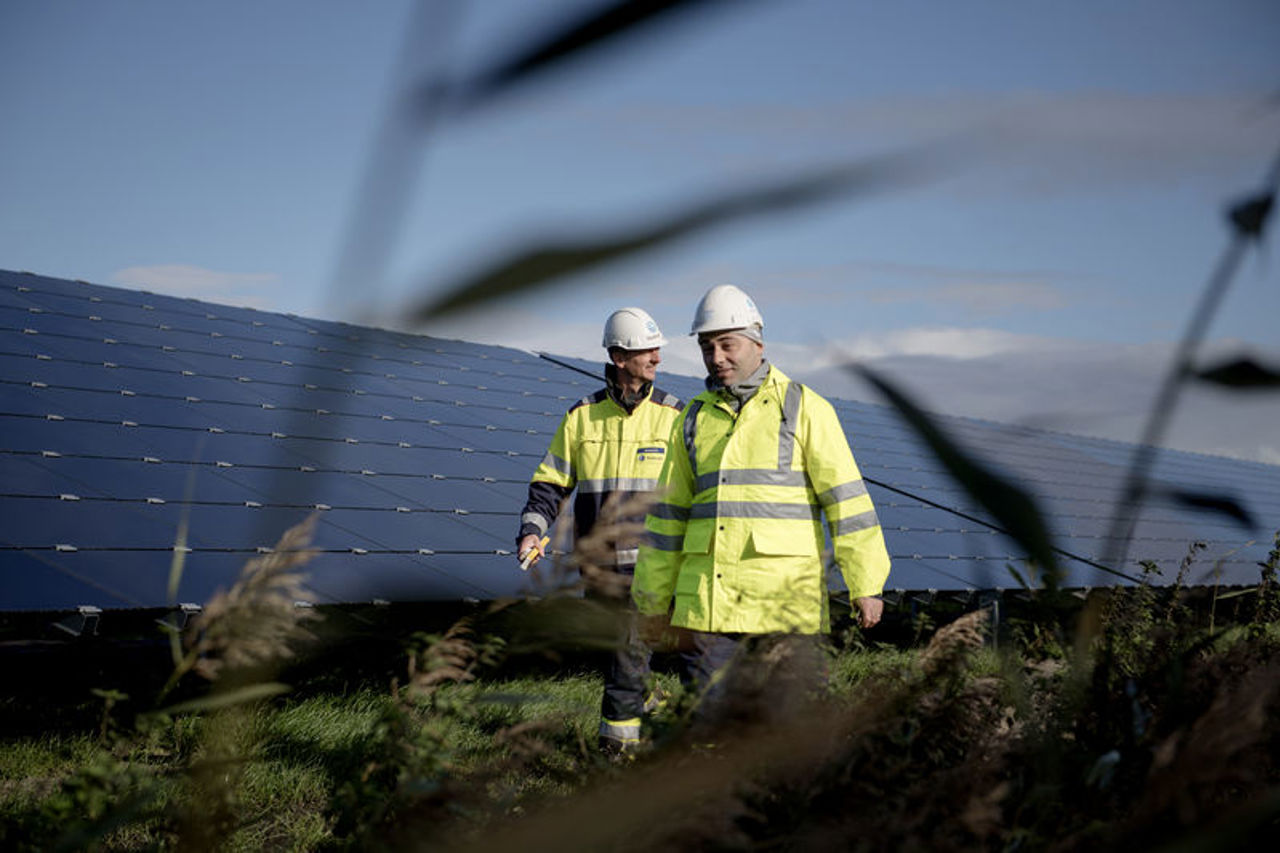 Find your frequently asked questions here
If you can't find the answers you are looking for, please submit your question using the form at the bottom of the page and we will get back to you as soon as we can.
About Statkraft
Statkraft is at the heart of the UK's energy transition.  Since 2006, Statkraft has gone from strength to strength in the UK, building experience across wind, solar, hydro, storage, grid stability and EV charging.
Statkraft is a global company in energy market operations, with approximately 5,700 employees in 21 countries.
We have worked on renewable energy projects in the UK since 1998, and recently set up our Welsh headquarters in Cardiff. In total wehave 20 projects in operation or in development across the UK, including Alltwalis Wind Farm in Carmarthenshire and Rheidol Hydropower Plant near Aberystwyth.
Across our UK business we employ over 300 staff in England, Scotland and Wales and play a key role in helping the global business reach its goal of 9 GW of development wind and solar power by 2025.
Statkraft aims to be a leading developer of green hydrogen, with the goal of 2GW production capacity by 2030.
About Trecwn Green Energy Hub
In April 2019, the Welsh Government declared a climate emergency. Since then, decarbonisation targets in Wales have become even more ambitious, with the Welsh Government pledging to achieve 70% of the nation's energy supplied by low carbon sourced by 2030.
To meet these targets, low carbon energy will need to be introduced across all industries, and green hydrogen will be key to decarbonising transport, power, heat, agriculture, and industrial sectors. That's where we come in.
The site will have the capacity for up to four tonnes of hydrogen storage, supplying clean fuel to aid the decarbonisation of energy, industry, and transport across Pembrokeshire.
The ex-MOD land at Trecwn is ideal for hydrogen production. The existing storage bunkers have the potential to be converted to store hydrogen safely in large volumes, and the existing railway line allows for direct transport access to/from the site. As a brownfield site that has been out of use for over a decade, the Green Energy Hub site can provide investment and help act as catalyst for further regeneration of the site.
The site itself is ideally located within the Haven Waterway Enterprise Zone and is also near the largest energy port in the UK and within the Milford Haven Energy Kingdom, making it perfect contributing to these energy clusters and collaborating with other industries. There is already demand for hydrogen within Pembrokeshire as recent R&D into hydrogen in the area shows, and the green fuel can contribute to both Senedd and Pembrokeshire County Council decarbonisation targets.
With green hydrogen, renewable energy is used to power the electrolysis process of breaking down water (H2O) into hydrogen (H2) and oxygen (O). Conventional production methods used fossil fuels to extract hydrogen, known as grey hydrogen.
The power used in the electrolysis process could come directly from traditional renewables such as wind and solar, where it's then transported to the customer. This option reduces the need for power lines. Alternatively, dedicated renewable projects can supply clean electricity via the grid to power the electrolysis. Once produced, the hydrogen is then stored either as a gas or a liquid in pressurised tanks.
Statkraft has embedded a strong safety culture thanks to our history of working in high-risk settings – constructing and operating hydroelectric plants and constructing wind farms around the world – we intend to make sure that this culture is part of our hydrogen developments as well. We can draw on the experience of the UK's chemical and offshore industries, with their experience in designing and developing facilities for production and handling of gases, working from scratch to minimise hazards and maximise safety.
As an industry, hydrogen producers are aware that a lack of public knowledge may raise concerns, so safety has been at the forefront of decision making. This can be seen through the Hydrogen Council, which was established under the government's hydrogen strategy to look at how non-economic matters relating to hydrogen production such as HSE, environmental matters are regulated.
Statkraft is a leading player in the UK green hydrogen market, with a number of projects in the pipeline. The company is building on experience of over a century of renewable energy generation, with aims for 2GW hydrogen production capacity by 2030.
Our global company has been working on green hydrogen solutions for a number of years, from hydrogen-powered shipping to hydrogen powered communities.
With an in-house expert team in the UK and beyond, and with operating projects using similar technologies, Statkraft is excellently placed to drive forward the UK's hydrogen ambitions.
As the project develops, we will continue to update and include the community in the process through public events, newsletters and other means of communication.
Subscribe for updates via the online form and let us know your thoughts and comments via post, phone or email.
Post: FREEPOST Statkraft
Email: UKProjects@statkraft.com
Phone: 0800 772 0668
On the current trajectory, the statutory consultation will take place in Summer 2023, followed by submission of the DNS application to PEDW in Autumn/Winter 2023. If the application is successful, construction would take around 15 months, so the site could be generating green hydrogen by 2026.
Hydrogen is an extremely versatile fuel source, and can be used across a range of industries. It can be used as a fuel for transport, heat, electricity, and as feedstock in industrial processes.
There has been a lot of R&D and investment in hydrogen as a fuel for transport, ranging from hydrogen buses and trains to heavy goods vehicles and long-haul transportation. Hydrogen's storage density makes it perfect for decarbonising HGVs and long-haul transport as it is more effective for these journeys than electric batteries.
You can subscribe for updates via the online form.
We will continue to update and include the community in the process as the project develops through public events, newsletters and other means of communication.
Environmental considerations
Environmental surveys are being undertaken by a team of specialist consultants to establish a baseline of current ecology and ornithological conditions in and around the site. A scoping report is due to be submitted to PEDW in September 2022.
During 2022/23 we will undertake further surveys and assessments on a range of environmental considerations – including ecology, noise, visual impact, flooding and shadow flicker.
Green hydrogen is produced entirely from renewable electricity sources, such as wind and solar, so there are no emissions to create the fuel.
The process used to produce hydrogen is electrolysis, which splits water into hydrogen and oxygen, so the only by-product of the process is oxygen. As a result, the hydrogen production process is completely clean and emission free, creating a 100% green fuel for use across industries.