Projects under development and construction

Project updates
These are the latest project updates.
Latest news
Temporary Met Mast Works Begin
On site works to install the temporary meteorological mast (met mast) are due to start on Thursday 2nd November 2023. It is expected, depending on weather, that the works will be complete 9th November.
The temporary met mast was approved by the Scottish Borders Council in July 2023. The mast which will be located slightly west to the middle region of the site boundary, measures up to 121m in height and will be in place for up to two years. Only works for the approved met mast are being undertaken at this time. No works associated with the proposed Oliver Forest wind farm will be undertaken.
The data collected by the met mast will complement our existing data and help inform our decision on the best make and model of turbine to install on site should the wind farm receive consent.
You can view the full planning application for the met mast here.
Planning Application for Temporary Met Mast Approved
The planning application for the temporary meteorological mast (met mast) we submitted in May this year for the proposed Oliver Forest Wind Farm was approved by Scottish Borders Council on 20 July 2023.
The project team are now working to put in place contracts to install the met mast. It is expected to be installed later this year.
Full details of the application can be viewed on the Council's planning portal which can be accessed here under the application reference number 23/00685/FUL.
First Exhibition Consultation Report Published
We would like to thank local residents and communities to our proposed Oliver Forest Wind Farm for coming along and/or providing their feedback during our first Public Exhibition period in February and March 2023.
The report from the exhibition period is now available to view on the here.
We wrote to everyone in May who had returned a feed back and provided their permission for us to write to them. The report attached summarises the findings from the feedback forms and sets out our next steps.
At the moment we are carrying out further surveys required for the Environmental Impact Assessment Report to be sumbitted with any future application.
It is our intention to hold the second exhibition this winter with the aim of submiting an appalicaiton before the summer 2024.
Planning Application for Temporaray Met Mast Submitted
A planning application for a temporary meterological mast (met mast) for the proposed Oliver Forest Wind Farm has been submitted to Scottish Borders Council.
The purpose of the met mast is to collect more data to increase our knowledge of the wind recource within the site.
The application went live on the Council planning portal on 25 May 2023. Full details of the application can be viewed on the Council's planning portal under application reference 23/00685/FUL and is available to view here under the planning documents tab.
If you have any questions please Get in touch.
Public Exhibitions Announced for Oliver Forest Wind Farm
We are pleased to announce we will be hosting our first series of public exhibition events on the 8 and 9 March 2023 to share our plans for Oliver Forest Wind Farm.
Over 500 households and businesses within c. 10km of the site have been invited to attend, and advertisements have been placed in the local newspapers, Peeblesshire News, Border Telegraph and Southern Reporter.
The exhibition will provide residents and other interested parties the opportunity to review our proposal and provide their views. Since introducing our plans in December 2023, we have met with Tweedsmuir Community Council and look forward to sharing our plans and hearing the views of the wider community at this very early stage of the project.
Local residents can provide their feedback in person at two local exhibition events we are hosting on:
Wed. 8 March – Tweedsmuir Village Hall. 3pm - 8pm
Thur. 9 March – Broughton Village Hall . 3pm - 8pm
Or via the website here (live from 21/02) or chat to us during the online chat session between 12 noon and 2pm on 16 March 2023.
We look forward to the local community and other stakeholders taking the opportunity to review our proposals and receiving their feedback.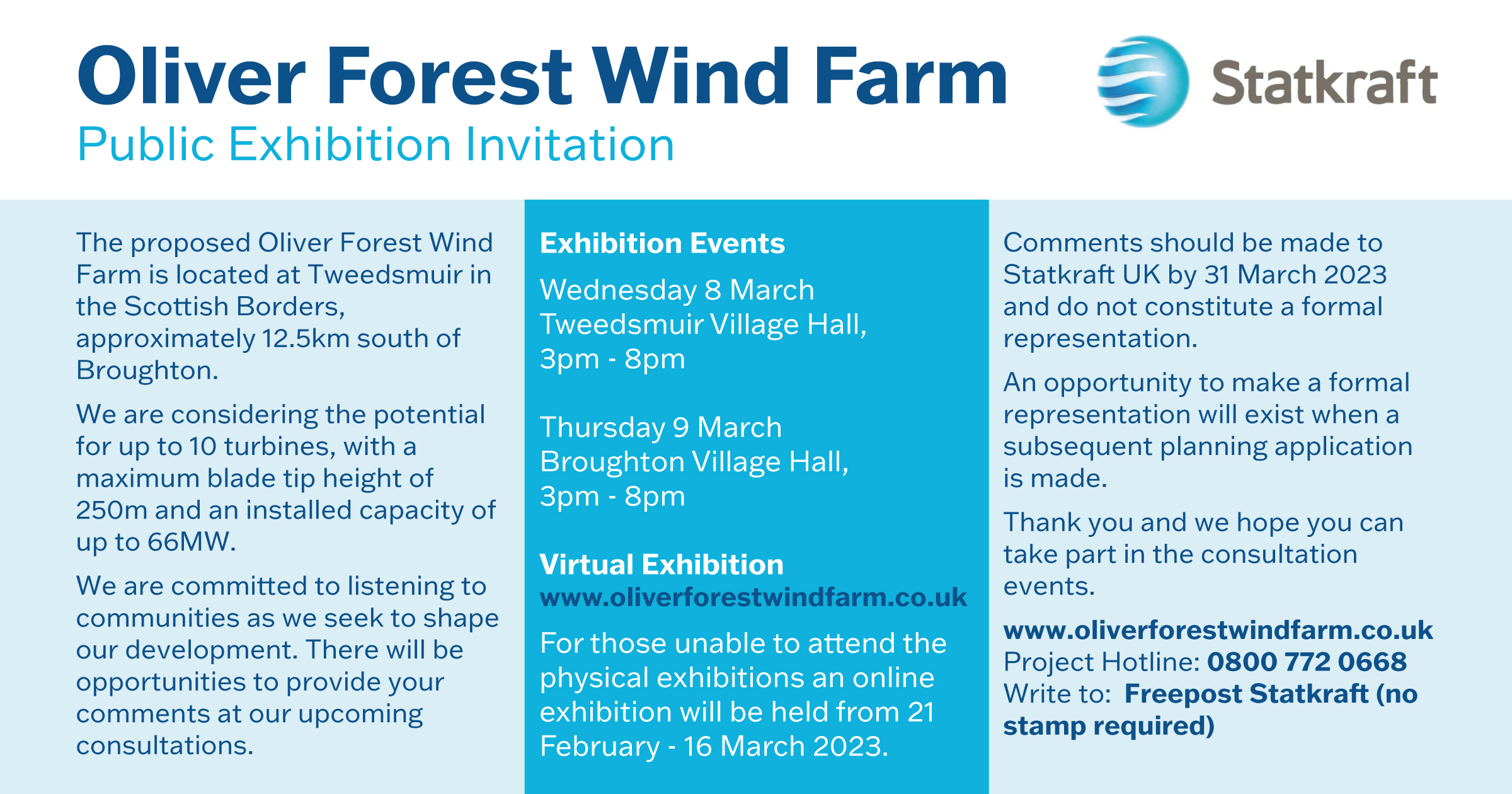 Borders wind farm proposal set to boost Scottish energy security
The Scottish Borders could soon be on course to help secure Scotland's energy future through a more efficient way of generating clean electricity, by using fewer turbines to maximise the efficiency of the site, under plans put forward for a new wind farm, 12.5km south of Broughton.
Statkraft, Europe's largest renewable power generator, has lodged initial plans for Oliver Forest wind farm, which would be located near the A701, between Tweedsmuir and Glenbreck. The wind farm would generate up to 66MW of clean renewable electricity from just ten turbines, which is enough to power over 74,000 homes1.
Under the proposals, the turbines, which have a maximum tip height of 250m, would be carefully sited to use the land most efficiently, minimising the overall visual and other key environmental factors of the proposal while still generating a significant amount of clean renewable energy to achieve Scotland's net zero goals. There is expected to be limited or no visibility from Broughton, Moffat, or Biggar.
At this very early stage in the proposal, Statkraft has begun a programme of community engagement, so local people and stakeholders can give their initial feedback on the plans, which are subject to final approval by Scottish Government ministers. The first in-person and digital public exhibitions will take place in early 2023.
Statkraft is committed to delivering a community benefit fund worth up to £330,000 each year during the lifetime of the project2 and is keen to gather ideas on utilising the fund to meet local needs. Statkraft also looks forward to exploring the idea of community shared ownership.
Rebecca Todd, Statkraft's Senior Project Manager, says: "Statkraft has a strong track record in Scotland, with an office in Glasgow and a number of wind farm sites already generating clean, renewable electricity.
"So it is exciting to be launching our first Borders project, which will be a key moment for the way renewable electricity can be generated in the future. By taking advantage of new technology, we can make best use of the land, while seeking to minimise disruption to locals.
"I'm looking forward to speaking to people about our plans throughout the development process, to deliver a project which takes on board their views, and a fund that supports the local community too."
"On 10 January 2023, National Grid announced a new record of energy generated from wind farms providing more than 50.4% of the UK's power, beating the previous record achieved on 30 December 2022. As onshore wind is the cheapest source of new power this is good news for bill payers and business on our route to achieving energy security and the Scottish Governments net zero goal by 2045."
1. Homes equivalent number based on 10 x 6.6MW turbines, wind resource assessment and average Scottish domestic consumption of 3,520kWh pa. Candidate turbine still to be confirmed. (BEIS, December 2021).
2. Statkraft are committed to offering a community benefit fund of £5,000 per MW of installed capacity in line with Scottish Government best practice. Should the project be consented, the value of the fund will be determined by the installed capacity of the wind farm.
Oliver Forest Wind Farm submitted for Scoping
We are pleased to have submitted a Scoping Request to the Scottish Government to progress our proposal for Oliver Forest Wind Farm, located approximately 12.5km to the south of Broughton in the Scottish Borders.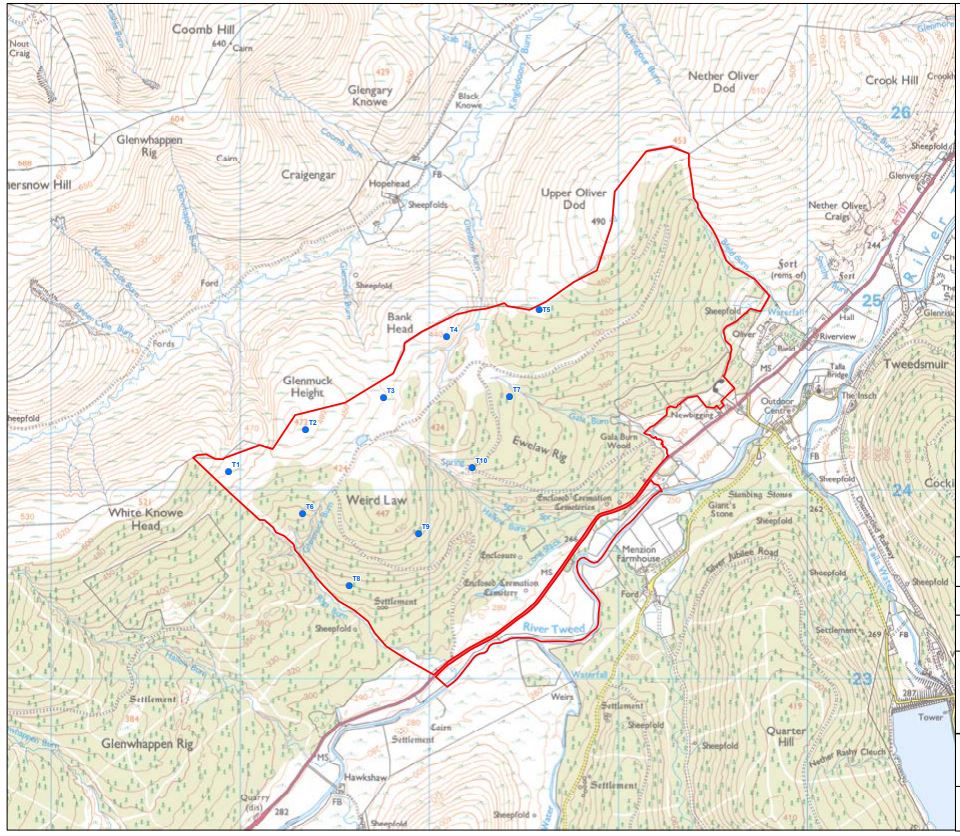 We are considering the potential of up to 10 turbines, with a maximum blade tip height of up to 250m and an installed capacity of up to 66MW. Under our proposals the turbines would be carefully sited to use the land most efficiently, while minimising the overall visual and other key environmental factors of the proposal. Our studies show there is limited visibility from Broughton, Moffat and Biggar.
Engaging early with communities is important to us. The Scoping Request is when the project is first introduced to the public and to help keep local communities informed we have published the project website and written to the host and surrounding community councils within Scottish Borders Council area. You can find a summary presentation about the project sent to the community councils, as well as a copy of the documents we have submitted to the Scottish Government under Project Documents.
The Scoping period provides the opportunity to formally gather the views of key stakeholders such as NatureScot and local community councils about the proposal and the key topics to be assessed as our proposals develop. The findings of these assessments and feedback will help shape our proposals.
There will be further opportunities to view plans and provide your comments during the development stage of the proposal. We will be hosting two rounds of public exhibitions to present our proposals and gather local feedback. We will write to every household and business within c.10km of the site ahead of the exhibitions to ensure as many people know about it and have an opportunity to meet and engage with us in person or online.
If the project is consented, we will be able to provide over 74,000 homes with carbon free electricity helping Scotland to achieve our Net Zero goals.
You can find the full scoping documents including a location plan for the proposal under project documents and provide your feedback here.